Apprenticeship Program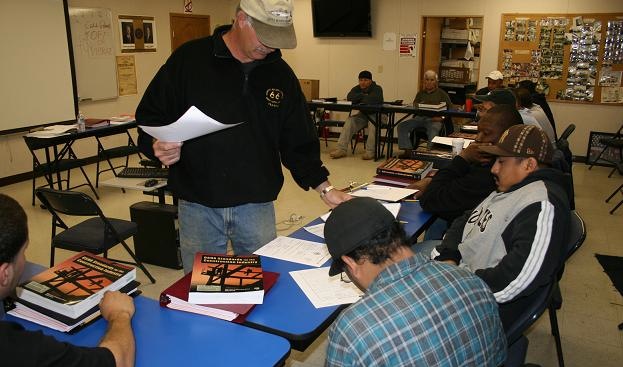 Local 66 Laborers Training Program Facebook Page
Do you want to work toward a better life, a better future? Our apprentices gain the abilities and knowledge necessary to obtain good jobs. We can help you acquire these skills too! Through classes, experience and on-the-job training you can be on your way to a new, and brighter future.
Our members build great things across Long Island. Our labor is used to build schools, colleges, churches, offices, hospitals, housing structures, memorials, parks and government facilities. We take this responsibility seriously, so every Laborer who carries a Local 66 Union Card has to uphold to the standards of the highest trained, skilled and educated in the industry. On average, it takes an Apprentice 3 years before becoming a well rounded Union Journeyman, but the rewards and hours of training prepare you to be ready for any job, and smart enough to work-it safe and earn a living for you and your family.
In addition to preparing yourself for a worthwhile career, you will gain lifelong friends and co-workers, be part of a great local union, and be given opportunities to do things that will benefit our communities. Our Apprenticeship Program does not just take anybody. A application and interview process takes place before you are accepted. With mandatory classroom time, you will also be trained on the job, by skilled seasoned veterans of the trade.
Being a Local 66 Union Laborer is not an easy commitment. Our union is the first on the jobs, and last off. We maintain safe jobsites, provide the muscle to get the job done on time and with skilled precision. But the rewards can be outstanding, and your career will be one you can be proud of. We Are Laborers Local 66, the Building Trades Finest.
Local 66 Training Fund Office
(631) 454-2330 ext. 117
More about the Program...
An apprentice is an individual who develops marketable job skills in a structured training program. Upon completion of their apprenticeship, the apprentice will have learned many skills that will help them become knowledgeable in various work areas and will have basic knowledge of many other types of work. This will give them the opportunity to learn quickly on-the-job and become valuable employees to our signatory contractors.
Please call the number below for program information and dates that applications will be accepted.
Local 66 Training Fund Office
(631) 454-2330 ext. 1006 or 1005
The following are skills you will obtain through the Apprenticeship Program:
concrete placement
backfilling and tamping
scaffold building and removal
form stripping
mason tending
safety training
and much more…
Program Requirements:
18 years of age
Physically able to perform the work
High School Diploma, GED equivalent
Valid Driver's License
Reliable form of transportation
Must reside in Nassau or Suffolk Counties
Length of the Program:
(3) years/ 4,000 hours required of on-the-job-training (OJT)
Minimum 144 hours per year of classroom instruction is required.
NOTICE OF NONDISCRIMINATORY POLICY AS TO STUDENTS
The General Building Laborers' Local 66 Training Fund School admits students of any race, color, national and ethnic origin to all rights, privileges, programs and activities generally accorded or made available to students at the school. It does not discriminate on the basis of race, color, national and ethnic origin in administration of its educational policies, admissions policies, scholarship and loan programs, and athletic and other school-administered programs