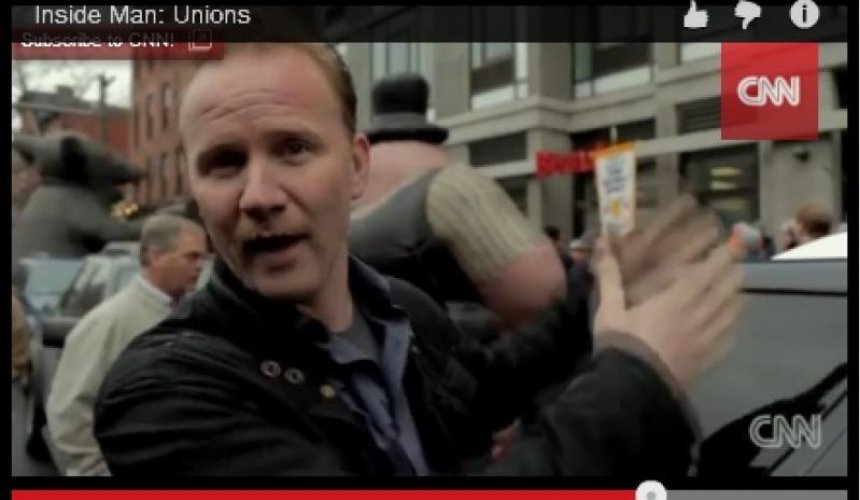 Inside Man: Laborers Union on CNN
Inside Man, airing last Sunday on CNN which focused on the real lives of those helping tow the line for America's middle class. "Supersize Me" star Morgan Spurlock, the series host, interviewed long-time construction organizer Chaz Rynkiewicz about some of the challenges facing organized labor across the country. Morgan spent the work day with Chaz Rynkiewicz, Local 79 Director of Organizing, finishing up at a worker rally in the heart of the city. Along the way, the two talked about the impact of limiting union membership growth AND a discussion about the latest efforts in the state to renew the push for worker rights with leaders from "Build Up New York City" (BUNYC).
"We're so grateful that CNN is reporting such an under-covered story about how the corporate war on worker rights threatens the future of America's middle class," LIUNA General President Terry O'Sullivan says. "We face a middle class crisis, in which LIUNA organizers, along with Build Up New York City, are working to make a real difference." Through the Mason Tenders District Council, LIUNA has been an early and strong supporter of BUNYC. The campaign is led by a coalition of labor unions dedicated to strengthening the middle class with safe jobs that offer fair wages, affordable health insurance and a secure retirement. Taking a variety of public awareness actions, the alliance promotes access to comprehensive training in order to prevent accidents and injuries at worksites.
The Center for American Progress predicts that increasing union membership would result in higher average incomes for middle-class households, whose share of our nation's income has declined in correlation to reduced union membership. Average non-union construction employees are only able to earn about 35 percent less than the average union workers, according to the Current Population Survey. For more information, visit insideman.blogs.cnn.com or check out the short clip on the homepage.