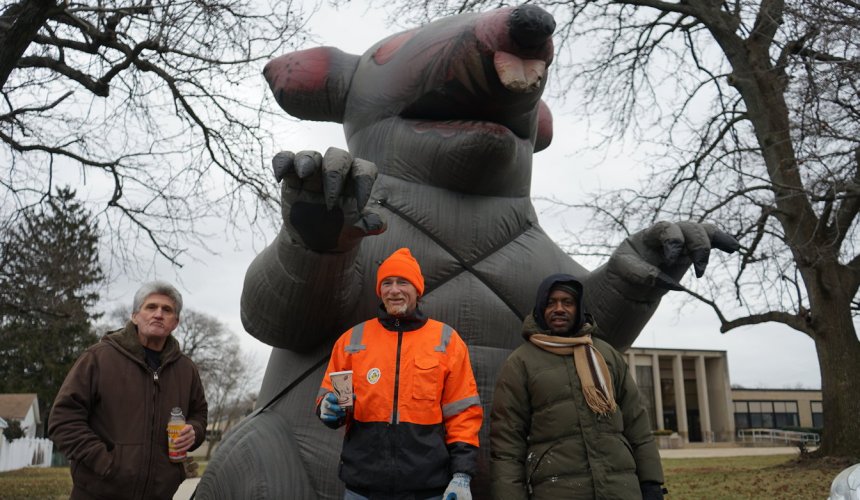 Arlington contractor agrees to use union labor
Responding to criticism of non-union labor at the $5.5 million Arlington Avenue sanitation transfer station reconstruction project, Racanelli Construction, the contractor hired by the village to carry out the work, has agreed to bring on members from Local 66, the union that first raised the concerns, to help finish construction.
Members of Local 66 had placed an inflatable rat outside of Village Hall in January in protest of word that Racanelli had hired subcontractors for the project with a reputation of using non-union labor, and accused the company of destroying industry standards.
Although he was unsure what percentage of the construction workers hired for the project were not being paid state-mandated prevailing wages for their work, Local 66 representative Salvatore Espeziale told the Herald that it would have been preferable if Racanelli had required that all laborers for the project be union.
"If they were really paying the prevailing wage, why not just hire union companies?" he said. "It [costs] the same rate, you get a better quality of work, and you save on payroll taxes. Instead, you're just trusting that the contractors are paying the prevailing wage."
The protests prompted Village Building Department Superintendent Tom McAleer to contact Racanelli, and find a solution. "All we did was reach out to the contractor to reach out to the union," he said.
In response, officials at Racanelli reportedly told members of Local 66 that they would bring on the union's workers to finish out the last two months of the Arlington project. McAleer said the development did not change the scope or price of the construction.
"We just mediated it," he said of ending the protests.
Espeziale said he was pleased at the development, and the village's responsiveness to their complaints. "We're extremely happy," he said.