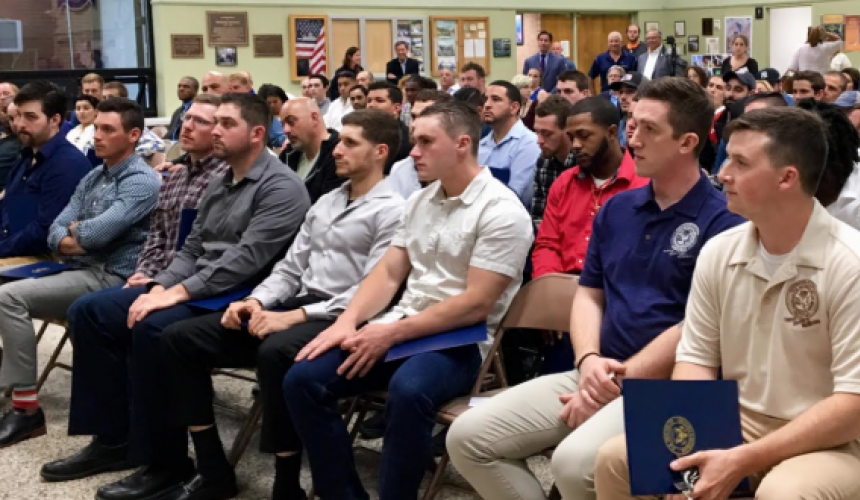 Congressman Suozzi Hosts Event to Celebrate Those the Pursuing the American Dream with a Career in Skilled Labor
Last night Congressman Tom Suozzi (D – Long Island, Queens) hosted an event at the Laborers 66 Union Hall in Melville to recognize and celebrate young people who have chosen to pursue the American Dream with a career in skilled labor.
"Sixty percent of Americans do not go to college, and out of those that do, forty percent of them do not graduate. For a long time, emphasis has been placed on STEM (Science, Technology, Engineering, and Math) programs, however there are six million unfilled jobs in America and many of them do not require a college degree, but do require some type of technical or vocational training," said Congressman Suozzi.
Last year Congressman Suozzi started "Tom and the Trades", an initiative where he spends a day "on the job", learning a new skill, and then performing the work. To date he has done over a dozen jobs with electricians, butchers, welders, auto mechanics, etc.
"With high school graduation season upon us, many young Long Islanders are opting to pursue a skilled career, union apprenticeship, or a new course of study at a trade or vocational school. The success stories of these young women and men, who are working hard to become machinists, plumbers, chefs and more, reveal a great deal about how to super-charge the American economy. Creating bigger and bolder opportunities for good wage and good benefit jobs in the skilled labor economy is the key to rebuilding the middle class," said Congressman Suozzi. 
Last night's event honored recent graduates who have participated in union apprenticeship programs with Laborers Local 66; Local 5, Boilermakers; Local 25, IBEW; Local 28, Sheet Metal Workers; Locals 30 and 138, IUOE; Local 200, Plumbers; Locals 361 and 40, Structural Iron Workers; Local 580, Ornamental Iron Workers; Local 638, Steamfitters; Local 1049, IBEW; DC 9, IUPAT; International Association of Machinists and Aerospace Workers; Nassau BOCES; and Opportunities Long Island.
"We want to thank Congressman Suozzi for his efforts in promoting union apprenticeship programs as one of the pathways leading to success. He recognizes the hard work, dedication and skill set required by our men and women in the building trades, who are essential in maintaining our vibrant economy and the backbone of the middle class," said Matthew Aracich, President of the Building Trades Council of Nassau and Suffolk.
Also honored were high school graduates from Walt Whitman High School, Bethpage High School, Harborfields High School, Half Hollow Hills West High School, Huntington High School, and Plainview-Old Bethpage JFK High School who are entering trade and vocational schools.
"We must encourage and empower young people to seek good jobs at good wages in skilled labor and the union trades. This generation deserves the same shot at the brass ring as did previous generations. If you are willing to work hard, the American Dream should be attainable," said Congressman Suozzi.