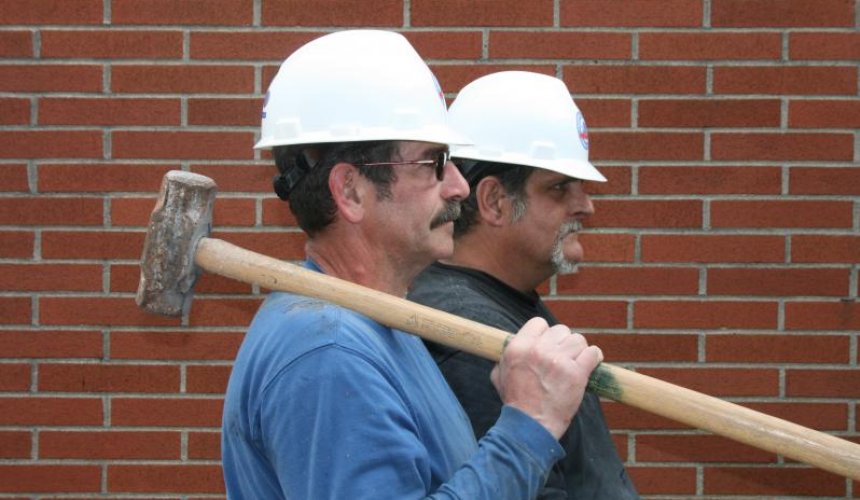 Happy Labor Day from Laborers Local 66
Check out our Labor Day Radio Ads on the new 94X, B103 & WBAB!
The rights of working people have frequently made headlines this year, locally and nationally. On Long Island, over 5,000 telecommunications workers recently went on strike and teachers on Long Island are being laid off and giving concessions to meet budget shortfalls. Nassau County laid off workers and demanded concessions, and may still impose more layoffs. The Federal Aviation Administration laid off thousands for a couple weeks while workers within the Transportation Security Administration recently organized their union. Low wage retail workers at Target failed to organize their union, but people were educated at really how inferior wages and rights in the retail industry are. Governors and lawmakers in Wisconsin,Indiana, Ohio, Michigan and New Jersey tried their best to eliminate collective bargaining from its civil workforce but met massive resistance with "We Are One" handmade signs; and Long Island workers who responded to the 9-11 attacks are making the ultimate sacrifice while Congress debates whether they deserve our financial support for medical treatment ten years after that fatal day that changed our nation forever.
Depressing right? No, not at all. The rights of workers, the role of unions and the public perception of organized labor have become more and more of a kitchen table topic across not only Long Island, but the nation as well.  Even though union membership numbers are the lowest in 70 years according to the Bureau of Labor Statistics, the number of union members is still astounding with 12.2 million nationwide, close to 2 million in New York State, and over 250,000 on Long Island.  Catchy ad campaigns like "America works best when we say Union Yes" and "Look for the union label" may not exist anymore, but with an influx of youthful union leaders like the AFL-CIO's Liz Shuler with an energetic national movement of the defense of basic labor rights – the new labor movement is forming, with a redefinition of its role in our society. With social networking, YouTube and iPhone apps, unions are engaging the non-union public and consumers - giving them access and inevitably sharing power. At times sharing of power helps, and at times it hurts. But it is the only way basic worker rights will be protected.
Pro union community organizations like Jobs with Justice (JWJ) are popping up in almost every urban and suburban center. In Nassau County, JWJ is working to stop bus cuts for tens of thousands of low wage workers who depend on public transportation to get to work. Fast young and hip local radio shows like UCOMM Radio on 94X, or Labor Lines on AM1240 are born as a direct result of unions being indirectly attacked by corporate media, giving young union members and the general public a popular forum to respond.  Unions and the community are joining forces now more than ever to fight corporate greed – and the public is getting the message and liking it as well.
During the Verizon strike, members picketed Wireless stores. Although some lines were crossed, many turned away understanding that the picketers were on strike to stop the company from sending Call Center work to India. Unions understand how vital and valuable the consumer is, and their efforts to educate them proved to be a successful tactic. Blast text messages informed members where the most populated stores were. When school districts were at risk of losing teachers, most of them young – they  engaged parent organizations, school boards and the community like never before, keeping the public in the loop and is some cases saving jobs and programs. In Albany, when grad students who teach 47% of all SUNY Classes were at risk of once again not getting vital cost of living adjustments, their union asked the public to get involved. Calls into the Executive Chamber where the public asked the Governor why students who make $12,000 a year could not get a $300 raise through radio ads and Facebook made a difference. Everybody won; the tuition payers, SUNY, the Governor and the grad students.
With unions engaging the public, cultivating its younger leaders, using social media and providing support and information to community organizations, we must remind ourselves that raising the standard of living for the working class to the middle can only happen when all stakeholders are involved. To continue to strip away worker rights not only hurts unions, but a class of people and business as well. The attacks on unions decrease consumer confidence, quality of service, and workplace standard. The public gets this, and the unions do to. That is why in these times, as the rich are getting richer, and the poor are getting poorer, the civic duty and reasonability of unions and the community are now reorganized under one hip and youthful banner. That We Are One, and an attack to one, is an attack on all. From the people who brought you the weekend: Happy Labor Day!