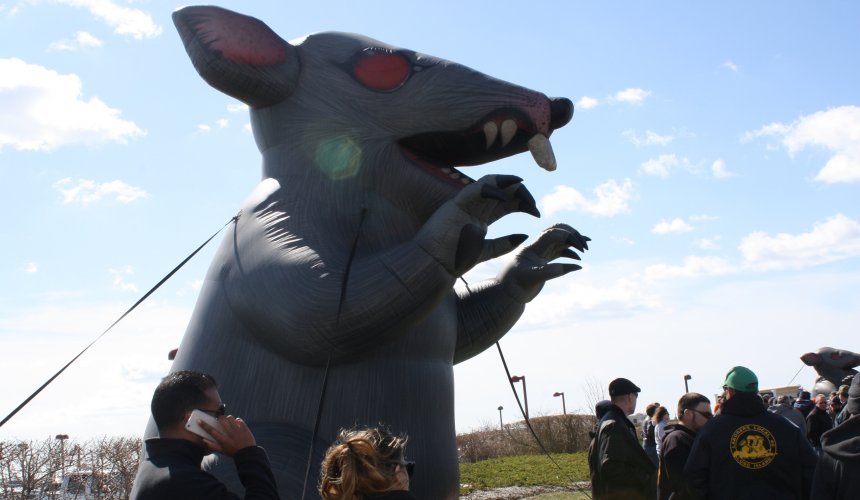 Hire Local Policy in Dispute
This article originally appeared in Newsday.
A dispute between a union and the new owner of a Smithtown senior housing development has raised questions about the effectiveness of "hire local" requirements for building projects that receive tax breaks.
The union charges that an insufficient number of Long Islanders are working on renovations to Siena Village. The owner says plenty of local people are working there.
Members of Local 66 of the General Building and Construction Laborers union have been demonstrating outside the 299 apartments for low-income seniors, which are located near Route 25A.
The complex is being refurbished after being sold last year for $62 million by Catholic Health Services to GHC Housing Partners, a company based in California that received tax breaks from the Suffolk and federal governments as part of the sale.
The protesting laborers said last week that GHC should exclusively use contractors and workers from Long Island because the company received up to $606,000 off sales and mortgage recording taxes from the Suffolk County Industrial Development Agency.
Philip Sgambati, 52, a union laborer from West Islip, said, GHC "got help from the Suffolk taxpayers and they are using guys from out of state...I feel like I was stabbed in the back."
The business also benefited from tax-exempt bonds — valued at about $60 million — issued under the authority of the Suffolk County Economic Development Corp. It also received federal tax credits.
GHC's CEO said the general contractor overseeing improvements to Siena Village is from Ohio.
But he said $5.5 million of the $9 million project is going to local contractors, who have hired Long Islanders and paid them the prevailing wage rate.
The dispute has led the IDA to examine whether GHC is complying with the agency's 2012 buy-local, hire-local policy, called "Long Island First."
The policy states: "To the greatest extent possible project applicants should consider purchasing goods and services from Long Island based providers… to the greatest extent possible all employment opportunities should be provided to Long Island residents first."
The policy needs to be strengthened, two IDA board members and a Suffolk County legislator said.
"What they are doing is a travesty and I want the IDA to rescind the benefits," said Robert English, Local 66 business agent, who once served on the Nassau IDA board.
GHC chief executive Gregory Perlman said the tax incentives were crucial to his Sherman Oaks, California-based company's purchase and renovation of Siena Village.
If the benefits were withdrawn, he said, "the project would probably go into foreclosure and there would be lawsuits…The only people that would really suffer would be the elderly residents."
Perlman also said he told IDA officials before the tax breaks were granted that the Ohio general contractor would be used because of its expertise in remodelling apartments without permanently displacing seniors.
Compliance with the hire-local provision has been an issue before, in 2014 with a proposed hotel in Huntington village, and in 2012 with the expansion of the Walt Whitman Shops in Huntington Station.
Peter Zarcone, Suffolk IDA treasurer and Local 66 official, said, "I'm not happy with what is going on" at Siena Village. He vowed to push for a requirement that 90 percent of the workers on IDA projects be Long Islanders.
Suffolk County Legis. Robert Trotta (R-Fort Salonga), whose district includes Siena Village, said the tax breaks should never have been granted to GHC, which he said was financially strong. "This is an embarrassment to the IDA," he said, "and of course, it should claw back the tax benefits."