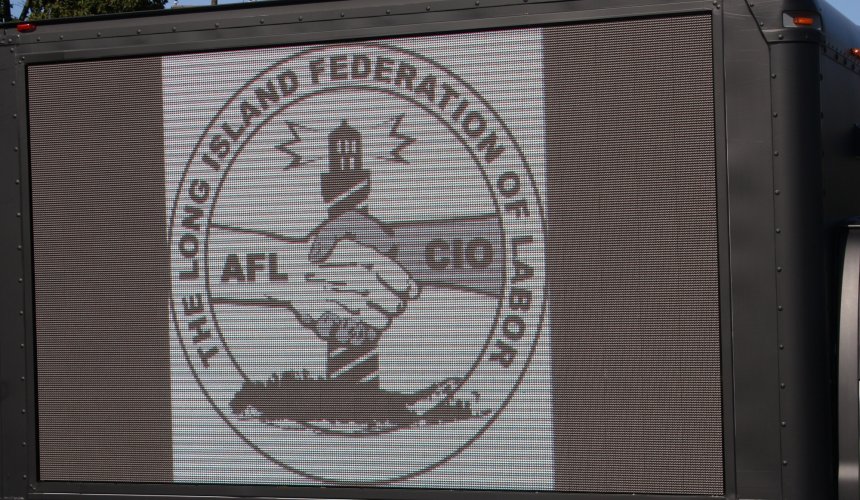 UCOMM Blog: New weapon in arsenal of activism
The General Building and Construction Laborers Local 66 based on Long Island, NY has just added a new weapon in their arsonal of activism.  A recent purchase of an LED multi-media truck is changing the way that unions do business.  At a traditional union rally or picket line, sign trucks roll in with one message and no audio.  With the new LED truck, they will now be able to show multiple images with audio that is bound to draw attention. A similar truck has already been bought by Laborer union locals in New England and has made an appearance at the Building Trades Rally at Belmont Racetrack.
According to Steve Flanagan, Business Manager of Laborers Local 66, it would usually cost over a thousand dollars to rent out one of the old trucks and design a one-time use canvass banner for it, but now he says that he can design multiple images and rotate them every 8 seconds.  The truck will also have a sound system which will allow them to play audio without needing to set up a separate sound system.  Flanagan also said that the images and audio can be remotely controlled so that they can park the truck at a rally for a politician and control it from afar.  He went on to explain that the truck is actually quite distracting for a politician, because you can't take your eyes of it since it changes the image every 8 seconds. The truck is literally a mobile rally all in one.
Currently, four different Laborers locals will be using the truck.  These locals include Laborers 79, 178, 108 and 66.  According to Joe Montalbano Vice President of Local 66, the truck was purchased from MVS Media Group in Miami Beach.  The plan is to use the truck at job sites and political rallies, as Flanagan desribed, "to put in political friends and take out political foes."  It is currently being used in NYC to pressure Mayor DeBlasio around his failure to stand up for prevailing wages on affordable housing projects in the city.  They will also be using it at job sites on Long Island that are using non-union laborer.  One such site is the Royce Carlton condo project where the Laborers hope to set the truck up to let every potential condo buyer know that their future home is being built with sub-par labor, kind of like a buyer beware public service announcement.
As the weather gets warmer and more pickets start to occur, make sure to look out for the Laborers new sign truck.  It looks like it will become a staple at Long Island building trades picket lines and rallies.