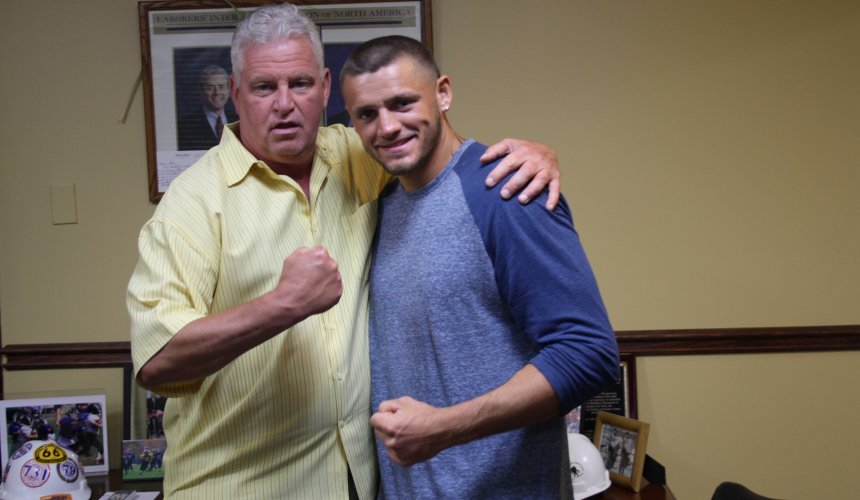 Vice: Joe Smith Jr. Still Punching Clock After Legendary Knockout of Bernard Hopkins
Joe Smith Jr. is a Long Island laborer and a member of the Local 66. The 27-year-old has a nine-year-old daughter, shares a Mastic, N.Y. apartment with his girlfriend, and when he works enough hours, qualifies for benefits, such as healthcare. 
He's also the guy who knocked boxing legend Bernard Hopkins out of the ring. 
"I watch the video all the time on Facebook and YouTube, and I think, 'Holy shit, that's awesome,'" said Smith, a light heavyweight title contender with an impressive 23-1 record and 19 career knockouts. "It's still is like, 'Wow, I actually did that.'"
Say what you want about Hopkins being 51 last Dec. 17, when he fought his farewell bout against Smith, 24 years his junior. The longtime former champion was favored to win that night at The Forum in Inglewood, CA; and Hopkins had never been knocked out, let alone pummeled through the ropes and onto the arena floor.
Not even then-unified champion Sergey Kovalev—generally considered among the best boxers at any weight—could knock out Hopkins when the two squared off in 2014. (Kovalev won a unanimous decision.)
But even after what should have been a life-changing victory, Smith was back on Long Island to start the New Year, punching his time card and hoping to work enough hours so that he and his daughter could have access to affordable healthcare. 
"I'm definitely not there yet," Smith said of his financial situation. "I haven't made it. I didn't make that much the last two fights. By the time I pay taxes, I don't have nothing."
Smith did clear $140K for the fight. And while that's a nice payday for someone who's pushed a broom around a construction site, it's well shy of Hopkins's $800K purse.
The truth is that Smith, the WBC's third-ranked contender and intercontinental champion, has yet to truly cash in on his success. After all, it's only been in the last 15 months that Smith has gone from an unknown name on an undercard to fighting in a main event on HBO. 
The first major step was unanimous decision victory over highly-regarded fellow New Yorker Will Rosinsky at Barclays Center in December of 2015.
"He's got pop," said Rosinsky, a four-time Golden Gloves winner and 2005 U.S. amateur champion who Smith has always admired. "He raises your eyebrows when you fight him. He can punch, he's relentless, and he's a good finisher."
After earning an easy second-round TKO against Fabiano Pena last April, Smith got what turned out to be his big break in June: a chance to fight Poland's Andrzej Fonfara in the contender's adopted home town of Chicago. 
It was supposed to be a warmup for Fonfara, who was looking for another title shot after losing a unanimous decision to WBC light heavyweight champion Adonis Stevenson in 2014. 
But even though the Warsaw native was a heavy favorite following victories over Nathan Cleverly and Julio Cesar Chavez Jr., Smith's father had already concocted a fight strategy around Fonfara's Achilles' heel. 
"I had followed Fonfara his whole career," said Joe Sr., a former bouncer and amateur boxer who introduced Joe Jr. to the sport when he was 13. "I knew when Fonfara let his hands go, he raised his chin up every time and left himself wide open.
"So in training camp, we told Joe, 'As soon as he lets his hands go, you punch with him, and you're gonna knock him out.'"
Joe Sr. was right. His son earned a first-round stoppage and perhaps boxing's biggest upset of 2016 after dropping Fonfara twice with his explosive right hand.